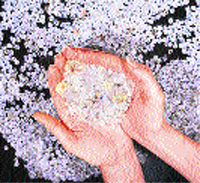 Mumbai, June 20
India's diamond exports crashed by more than 50 per cent in May this year compared to the year-ago period sparking off panic in the diamond cutting and polishing industry, which is one of the biggest employers in Western India.
According to data released by the Gems and Jewellery Export Promotion Council (GJEPC), exports of cut and polished diamonds fell from 51.22 lakh carats in May 2011 to 25.74 lakh carats in the corresponding period this year. In value terms, the fall in exports was 44 per cent - from $2,240 million to $1,245 million in the same period.
The decline in May was steeper than in April this year, which saw exports decline 35 per cent in terms of value as compared to April 2011.
Diamond merchants are blaming the fall in exports on the Indian government's decision to impose two per cent import duty on polished diamonds from January 2012 as a measure to conserve foreign exchange.
The data indicates that import of cut and polished diamonds fell 88 per cent as a result. "Though margins were lower, cut and polished diamonds were imported for the purpose of value addition," says Amanbhai Shah, who owns a diamond polishing unit in suburban Mumbai.
However, even the diamond cutting and polishing business at home has also been affected, according to the data. The Indian diamond industry imports rough stones which are cut and polished within the country before they are exported. However, even this part of the business took a major hit in May this year. According to the GJEPC data, imports of rough diamonds fell 20 per cent over May 2011.
Those in the diamond trade say the sharp fall in the Indian rupee has made it expensive for them to import rough stones. Often importers of rough stones trade these with other businessmen who specialise in cutting and polishing them who in turn trade their finished goods with the actual exporters. Since it takes several months for dues to be settled across the chain, traders are wary of taking positions in stock lest they be affected by volatility in the exchange rates, analysts said.