Lucapa Diamond Company has discovered eight new kimberlite targets in a aeromagnetic survey currently taking place at its Lulo diamond concession in Angola's diamondiferous Lunda Norte Province.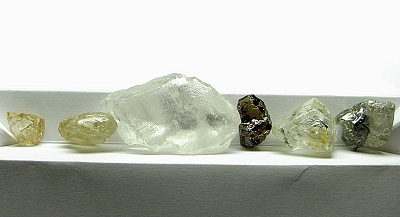 The company has received preliminary data from a survey over a 70 square-kilometer strip of the Lulo concession near to where Lucapa has recovered diamonds of up to 131.4 carats from its alluvial sampling operations.
This area has taken on added significance following confirmation in March this year that three of the biggest alluvial diamonds recovered from Lulo are Type IIa diamonds, the rarest and most valuable diamonds.
Initial examination of the data has identified an additional eight targets with magnetic signatures consistent with known kimberlites, the firm said.
The most significant, currently designated Se251, is a large magnetic feature located between Lucapa's current camp and dense media separation (DMS) diamond plant site. From the preliminary data, Lucapa, which has started test work on the new target, said it is not possible to determine whether Se251 represents a single large kimberlite target or a number of closely spaced smaller targets which extend north of the DMS plant site.
Exploration work immediately north of the DMS plant site has located a kimberlite that is thought to be part of Se251.
It is being sampled and will be processed though the DMS plant in the coming weeks. Lucapa will fully evaluate Se251 when the final processed magnetic data becomes available.
While Se251 is a major target of immediate interest as a potential source of the alluvial diamonds recovered by Lucapa, the smaller Se252 identified from the preliminary survey data also lies close to a number of the alluvial bulk sample sites and is also considered a possible kimberlite source for alluvial diamonds.
The aeromagnetic survey over the north eastern part of the Lulo concession is expected to be completed next week.
Lulo is operated as a joint venture between Lucapa and the Angolan government via state-owned diamond company Endiama which is the exclusive concessionary for Angolan diamond mining rights.