Leibish & Co., the world's premier online natural colored diamond company, announced today the addition of a fantastically rare 2.02-carat, SI2, fancy vivid purplish pink cushion-shaped diamond (graded by GIA) to its collection. The company plans to present this stone, it titled ''The Leibish Pink Promise'' to the public for the first time in this year's HKTDC Hong Kong International Jewellery Show 2013, at booth 3FD07.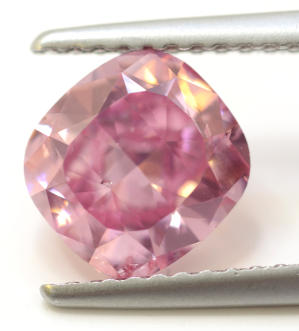 The colors in these diamonds are the main attribute used to determine the value of these gem-stones. The purplish pink hue happens to be one of the rarest colors available with an extremely high market demand. "Given the impressive price performance of both the important diamonds sold in the auction houses as well as smaller diamonds traded among the general public, colored diamonds are becoming much sought after investment options," said Yossi Polnauer, the CEO of Leibish & Co.
The origin of this fantastic gem was the Kao mine in South Africa. Although such a large percentage of the world's pink diamonds emanate from the Argyle mine, it is rare to find a diamond anywhere of this size in this color. Hence, the South African origin makes it unique compared to other pinks of this caliber.
Shmulik Polnauer, Leibish & Co.'s GIA graduated gemologist and chief diamond buyer, won the rough pink in a Fusion Tender of the Kao mine, held in Antwerp between November 5 and 9, 2012.
At first he considered round and even a heart shape, but in the end felt that a cushion yielded the best result. "It requires great expertise to determine the right shape of an important stone. By cutting a heart shape, we had fair chance to finish a 1.80-carat, with VS2 clarity. We did not want to compromise on the color saturation and wanted to keep the stone over 2 carats. This diamond is of the finest bubble gum color, with some fresh reddish flashes in the face up. It compares well with a vivid purplish pink from Argyle in its body color and luster.
''We spent over four months assessing and then polishing this 4.96-carat rough pink diamond. We saw an enormous amount of potential and wanted to ensure the world appreciates the outcome," said Polnauer. "In addition to buyers looking for truly unique pieces, we expect many investors to show interest in this diamond due to its rarity and ability to appreciate in value over time."
Source:
Diamonds.net