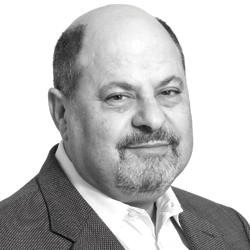 Jewellers Association of Australia after CEO Ian Haddasin
---
In what can only be described as 'kicking an own goal', the JAA has managed to anger supplier members while not gaining support from retailers either.
A furore has erupted within the Jewellers Association of Australia after CEO Ian Haddasin issued an email inviting members to join Rapnet, an internet diamond trading platform "that allows diamond trade professionals to buy and sell diamonds online without commission."
Rapnet
has no Australian or New Zealand office and is part of the US-based Rapaport Group. The email read: "JAA, in cooperation with Rapnet – a Rapaport service, invites you to participate in this special offer for JAA members only: get 13 months membership for the price of an annual subscription."
The uproar began when a number of diamond dealers discovered that the JAA had distributed the email only to retail members, not including JAA supplier members. Many suppliers felt that the JAA was promoting overseas trade against the association's own members.
Natella Aminov, director of Vital Diamonds, and a JAA member, was livid about Hadassin's email, so much so that on discovering the email she sent it to diamond dealers Australia-wide.
"I was very angry after reading the JAA email about Rapnet that was only sent to retailers. Why didn't all merchants [suppliers] receive this letter? We all have been members for many years and pay our membership fees like retailers and this email obviously shows that JAA doesn't need diamond merchants. They have a better alternative for retailers – Rapnet," Aminov said.
Aminov emphasised that while she is disappointed in the JAA's actions, she is confident in her own business because, "Diamonds are not only about colour, clarity and price they are also about purchasing knowledge and expertise. It's about having the rights goods, at the right price at the right time while offering goods on consignment for viewing as well as offering credit terms."
Downsides
Aminov said her business in many cases financed some clients by waiting for payment for a few months. She cautioned those who think Rapnet will save them money will join by paying $660, will pay upfront for the goods and then might not get the stone they expected.
Robin Sobel, managing director Protea Diamonds, also believes the JAA handled the matter quite poorly. "I can understand that the JAA also represents retailers but at a time when we are all struggling due to the economic conditions, and we want local retailers to buy from local suppliers, the JAA could have been far more sensitive in the way it went about things."
Sobel says that the email appeared as an outright endorsement for Rapnet, a service that almost all buyers and JAA members would already know exists, however Hadassin's email raised all of the benefits of Rapnet without mentioning any of the downside of buying from an overseas diamond dealer.
"The JAA did not mention that you have to pay upfront, there are additional costs like freight and shipping, foreign exchange and international bank fees and various other issues that are overcome when dealing with a local [diamond] dealer," Sobel said.
Sobel advised that if a buyer assesses the stone as unsuitable, the buyer should also consider that outgoing freight cost for the return of the stone is higher than incoming freight, and the retailer may need to arrange international shipping insurance to cover a loss. "Retailers even need knowledge of ECN's [export clearance number] and would also have to arrange a 10 per cent tax refund," Sobel added.
JAA Review
Another dealer, who asked not to be identified, was more furious, saying, "I think the Board should review the JAA's management. It's outrageous that something like this [endorsement of Rapnet] can be done without Board approval let alone without any of the Board members being advised before the email was sent."
The dealer also said that it was a case of the JAA working against its own members "and to put something out [the email] that is an endorsement of an overseas company is absurd. I hope the Board investigates a change in structure."
While it's understandable that supplier members would not be happy, it also appears not all retailers or manufacturing jewellers supported the endorsement either.
Industry forum
The issue was even raised on the Young Jewellers Group Facebook forum when the email first surfaced. Ewan Riley wrote, "That's what really annoys me about the JAA. I think there is 'Australia' in their name somewhere!" Retailer Samantha Nordhoff declared, "I really don't want to see my local suppliers close business, they do so much for me so I'm going to keep supporting them."
Another jeweller suggested it was not helping the industry and it looks like the JAA is, "doing their bit to add us to the list of manufacturing industries going down the gurgler."
One post was in support suggesting that if it was good enough for the rest of the world, it was good enough for Australia.
However, a retail buyer who was appalled by the email being 'hidden' from supplier members referred to the JAA's website. Asking not to be identified, the member said, "The JAA says they have highest quality behaviour and values and work with everyone to represent members in a positive and united way. If that's a way to unite the industry, then I'm totally confused."
Apology
After the JAA was contacted by angry suppliers, Hadassin issued a 'clarification', which was emailed to all members last Friday.
"I wish to personally apologise to those companies and to assure them it was never our intention that it be seen as message from the JAA not to continue to support local suppliers. We merely wished to inform our retail members as to what is happening at the world at large with regard to diamonds," the email read.
Hadassin's response to the uproar also explained, "The email has understandably upset many local diamond suppliers as they think this was intentionally done by JAA, particularly because no JAA supplier members were included in the original mail-out. By sending that email the JAA acknowledges that it has not considered local suppliers' interests and overlooked the fact of excellent service, huge diamond inventories and credit terms offered by the local suppliers."