Owners of some small and medium-size diamond factories in Surat in India are eyeing diamonds from the controversial Marange diamond deposits in Zimbabwe due to the reduced prices of the goods.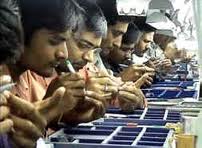 The diamonds are even more attractive to them due to the weakness of the rupee against the dollar which has raised prices of rough and reduced retail demand in India, according to a report in The Times of India.
Diamond mining companies in Marange have been selling their rough diamonds at a 25 percent discount due to difficulties associated with marketing them due to US sanctions imposed by the US for alleged human rights abuses, the report said.
Zimbabwe's Parliamentary Portfolio Committee (PPC) on Mines and Energy has submitted a report stating that the diamond mining companies operating in Marange are selling their rough diamonds at 25 percent less than world market prices, the paper cited industry sources as saying.
The parliamentary report said the rough diamonds are being sold through "unconventional means" because major international banks, insurance companies and couriers do not want to be associated with Marange diamonds as a result of the US sanctions.
"Zimbabwe's cheap diamonds are attracting Indian diamantaires, especially small and medium buyers," said a Gems and Jewellery Export Promotion Council (GJEPC) official. "They bring the diamonds to India paying cash in order to keep their factories running."
Meanwhile, Rakesh Patel, a diamond dealer in Mahidharpura diamond market, said, "The industry is not in a position to buy rough diamonds sold by mining companies like DTC and Alrosa as the value of rupee has depreciated against the dollar. Zimbabwe diamonds have become the cheapest option now."
GJEPC leaders said companies operating in Marange in Zimbabwe are KP-compliant and thus the diamantaires face no technical difficulties in bringing the diamonds to India.
"Diamantaires will go wherever they get cheap diamonds. If Zimbabwe is offering diamonds cheaper by 25 percent, we do not have anything to lose," Surat Diamond Association President Dinesh Navadia