This monthly gold chart is drawn on the logarithmic scale in order to remove some of the melodrama to the latest correction. Linear charts emphasize nominal price movement while a log chart emphasizes the percentage movement. By reviewing gold's latest correction on a percentage basis, we can put things into a little bit better perspective. The 2008 correction was 26%; the current correct thus far has been 30%. In short, we've been here before though you wouldn't know it from all the catterwauling at our favorite financial cable network and other media outlets (not to mention Wall Street itself). Granted we might not, as yet, have reached bottom, but then again, we could be close.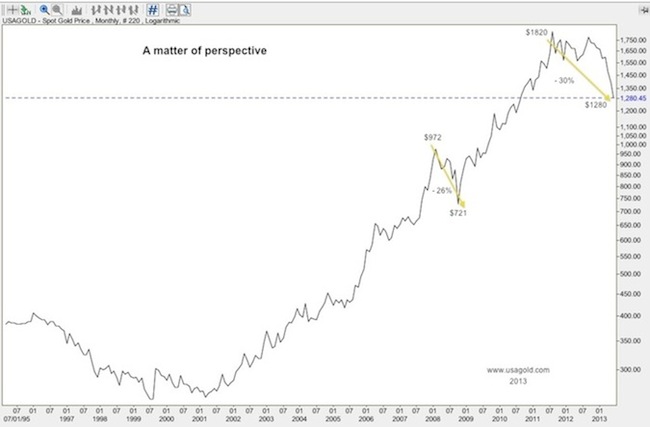 In preparing this chart, I couldn't help but look for similarities between 2008 and the present. Although nothing has surfaced that should make us think another Lehman Brothers event might be in progress, it is difficult not to wonder if
Marc Faber might be on to something
Why, for instance, has the Fed stepped up its asset purchase program since the beginning of the year while simultaneously talking asset purchases down? We see the numbers but we don't know exactly what is prompting the strange behavior.
This from Chris Martenson (Peak Prosperity) might end up being viewed months from now as early warning to a pending crisis:
"The early stage of any liquidity crisis is a mad dash for cash, especially by all of the leveraged speculators. Anything that can be sold is sold. As I scan the various markets, all I can find is selling. Stocks, commodities, and equities are all being shed at a rapid pace, and that's the first clue that we are not experiencing sector rotation or other artful portfolio-dodging designed to move out of one asset class into another (say, from equities into bonds). . .
"[W]e look at the increasing number of flashing indicators warning that a 2008-style - but worse - sell-off is arriving. We say 'worse' because this time it looks like it will be accompanied by a vicious cycle of rising interest rates. Plus, governments and central banks have used up all of their major options already. There are no more white knights to hope for."
Marc Faber: Gold a possible canary in the deflation coal mine
"'Maybe gold is signaling a deflationary collapse of all asset prices. If this were indeed the case I suppose I would rather own gold than government bonds, high yield bonds and equities. If this scenario were to pass it would lead to even more money printing around the world,' says Faber, who was talking about asset price deflation and gold back in March."
Also:
"Credit Suisse, meanwhile, said gold investors maybe should be ratcheting down their expectations, or at least taking a harder look at them. Gold could get back to levels seen before the crisis, around $1,100 or $1,500 an ounce, Tom Kendall, head of precious markets research told CNBC. That's because many of the so-called fear factors driving gold higher - such as inflation - have been removed from markets."
MK note:
For a good many years now, I have shied away from getting trapped in the debate about extreme economic outcomes, i.e., hyperinflation and hyperdeflation - though Faber is talking about
asset
deflation, a far different animal than
monetary
deflation. The problem with Kendall's analysis is that it is built on a false premise. Gold was
never
driven higher by inflationary fears during the course of this bull market. From 2002 on, the real main driver has been the safety of the banks and financial markets along with a possible collapse of the international monetary order. People like Kendall are usually surprised by the huge surges in demand as the gold price falls simply because they fail to understand the real reason for the demand in the first place.
Along these lines, we have experienced another demand surge at our offices since mid-last week. Many clients have cited concerns about the stock and bond markets as the reason for their renewed interest in gold, a crossover sentiment that bolsters Faber's argument. Press reports out of Asia tell a similar story. Faber is much closer to the truth than Kendall because he understands why people buy gold in the first place. Gold as "the last man standing" remains one of the strongest arguments in its favor - the asset of last resort and for the final reckoning.
Source:
marketoracle